10 Delicious and Easy Grilling Recipes for Your Summer Cookout
Planning a summer cookout and looking for mouthwatering recipes to impress your guests? Look no further! In this blog post, we've curated a list of Delicious and Easy Grilling Recipes for Your Summer Cookout that will take your food options to the next level. From juicy burgers to succulent seafood, these recipes are sure to satisfy everyone's taste buds. So fire up the grill and get ready to create an unforgettable summer dining experience!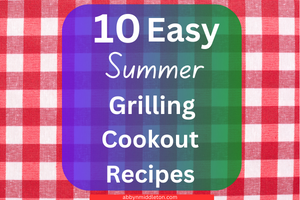 Classic Grilled Burgers:
Nothing beats a classic grilled burger at a summer cookout. To make them extra juicy and flavorful, mix ground beef with finely chopped onions, Worcestershire sauce, and your favorite seasonings. Grill to perfection and serve on toasted buns with all the fixings.
Grilled Lemon-Herb Chicken Skewers:
These zesty chicken skewers are perfect for a light and refreshing meal. Marinate bite-sized chicken pieces in a mixture of lemon juice, fresh herbs like rosemary and thyme, garlic, and olive oil. Skewer and grill until golden and tender.
Grilled Shrimp and Pineapple Skewers:
Impress your guests with these delightful shrimp and pineapple skewers. The combination of sweet pineapple and succulent shrimp creates a tropical flavor explosion. Simply thread alternating shrimp and pineapple chunks onto skewers, brush with a tangy glaze, and grill until shrimp turn pink and pineapple caramelizes.
Grilled Vegetable Medley:
For the veggie lovers at your cookout, a grilled vegetable medley is a must-have. Toss your favorite vegetables like bell peppers, zucchini, mushrooms, and eggplant in olive oil, sprinkle with seasoning, and grill until tender and slightly charred.
Teriyaki Glazed Salmon:
Add a touch of elegance to your summer cookout with teriyaki-glazed salmon fillets. Marinate the salmon in a mixture of soy sauce, ginger, garlic, and brown sugar. Grill until the fish flakes easily and brush with additional teriyaki sauce for a glossy finish.
Grilled Corn on the Cob:
No summer cookout is complete without grilled corn on the cob. Peel back the husks, remove the silk, and brush the corn with melted butter and a sprinkle of salt. Grill until the kernels are tender and slightly charred, giving them a smoky-sweet flavor.
BBQ Pulled Pork Sliders:
Satisfy your guests' cravings with delicious BBQ pulled pork sliders. Slow-cook pork shoulder with your favorite BBQ sauce until it's tender and easily shredded. Serve the flavorful pulled pork on mini slider buns, and top with tangy coleslaw for a mouthwatering combination of flavors.
Grilled Portobello Mushroom Burger:
For a meatless option that doesn't skimp on flavor, try a grilled portobello mushroom burger. Marinate the mushrooms in balsamic vinegar, garlic, and olive oil before grilling. Serve on a bun with melted cheese, fresh lettuce, and tomato slices.
Grilled Pineapple with Cinnamon-Sugar Glaze:
Take your dessert game to the grill with this irresistible grilled pineapple. Brush pineapple slices with a mixture of melted butter, cinnamon, and sugar. Grill until caramelized and serve with a scoop of vanilla ice cream for a simple yet decadent treat.
Grilled Fruit Kebabs:
End your summer cookout on a refreshing note with grilled fruit kebabs. Thread a variety of fruits like watermelon, strawberries, peaches, and pineapple onto skewers. Grill until lightly charred and serve with a drizzle of honey or a dollop of Greek yogurt.
Make your summer cookout an unforgettable culinary experience with these 10 delicious and easy grilling recipes. From classic burgers to seafood skewers and grilled desserts, there's something to please every palate. So fire up the grill, gather your friends and family, and enjoy the flavors of summer with these mouthwatering recipes. Happy grilling!
Thank you so much for reading: "Delicious and Easy Grilling Recipes for Your Summer Cookout." New to: abbynmiddleton.com? I post weekly blog posts on health, beauty, and lifestyle! If you liked this post, you might also like my blog post on: "10 Refreshing Summer Drink Recipes to Beat the Heat" For more reading on: "Delicious and Easy Grilling Recipes for Your Summer Cookout," check out this blog post here!