Easy and Quick Breakfast Recipes for Busy School Mornings
Mornings can be hectic, especially during the school season when everyone is rushing to get ready and out the door on time. Amidst the chaos, breakfast often takes a backseat, but it's the most important meal of the day! To help you and your family start the day right, we've curated a collection of easy and quick breakfast recipes that are not only delicious but also optimized for those busy school mornings. From make-ahead options to on-the-go treats, these Easy and Quick Breakfast Recipes for Busy School Mornings will ensure everyone gets a nutritious and satisfying start to their day without adding stress to your routine.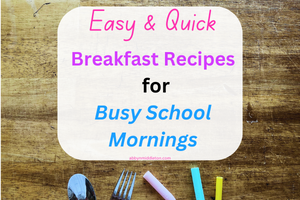 Overnight Oats: A Nutritious Time-Saver
Overnight oats are a game-changer for busy school mornings. Prepare them the night before, and you'll have a nutritious and filling breakfast waiting for you in the morning. In a mason jar or airtight container, combine rolled oats, milk (dairy or plant-based), chia seeds, a dash of honey, and your favorite fruits. Shake well, refrigerate overnight, and enjoy a creamy and delightful breakfast without any hassle.
Energy-Packed Breakfast Smoothies
Smoothies are a fantastic way to pack a variety of nutrients into a single glass. For a quick and easy breakfast smoothie, blend together frozen berries, a ripe banana, Greek yogurt, a tablespoon of almond butter, and a splash of milk. You can also add spinach or kale for an extra dose of greens without altering the taste. Pour the smoothie into a travel cup, and you've got a delicious breakfast on the go.
Make-Ahead Breakfast Burritos
If you prefer a savory breakfast option, make-ahead breakfast burritos are the answer. Prepare a large batch during the weekend, and freeze them individually wrapped. Each morning, pop a burrito in the microwave for a delicious and satisfying breakfast that's ready in minutes. Fill the burritos with scrambled eggs, sautéed veggies, shredded cheese, and a dollop of salsa for that perfect kick.
Grab-and-Go Energy Bites
Energy bites are not only nutritious but also super convenient for busy mornings. In a mixing bowl, combine rolled oats, peanut butter, honey, flaxseeds, and mini chocolate chips. Roll the mixture into bite-sized balls and refrigerate. These energy-packed bites can be stored in the fridge for a week, making them an excellent grab-and-go option for the entire family.
Avocado Toast with a Twist
Avocado toast is a trendy and nutritious breakfast option that can be customized in various ways. For a quick twist, top your whole-grain toast with mashed avocado, sliced tomatoes, a sprinkle of feta cheese, and a drizzle of balsamic glaze. It's a delightful blend of flavors that will keep you full and energized throughout the morning.
Rushing through busy school mornings doesn't mean you have to skip a wholesome breakfast. With these easy and quick breakfast recipes at your disposal, you can ensure that you and your family start the day right. From the make-ahead convenience of overnight oats and breakfast burritos to the energizing smoothies and grab-and-go bites, these recipes are designed to fuel your body and mind for a successful day ahead. So, bid farewell to morning chaos and embrace these tasty breakfast ideas for a happier and healthier school season!
Thank you so much for reading: "Easy and Quick Breakfast Recipes for Busy School Mornings." New to: abbynmiddleton.com? I post weekly blog posts on health, beauty, and lifestyle! If you liked this post, you might also like my blog post on: "Easy and Healthy Lunchbox Ideas for Kids" For more reading on: "Easy and Quick Breakfast Recipes for Busy School Mornings," check out this blog post here!