Beach Vacation Essentials: Packing Tips and Must-Have Gear
Planning a beach vacation? Don't forget to pack the essentials! Whether you're lounging on pristine sandy shores or diving into crystal-clear waters, having the right gear can make all the difference. In this blog post, we'll explore some packing tips and highlight the must-have gear for your ultimate beach getaway. From sun protection to water activities, we've got you covered. Let's dive in! This is: Beach Vacation Essentials: Packing Tips and Must-Have Gear!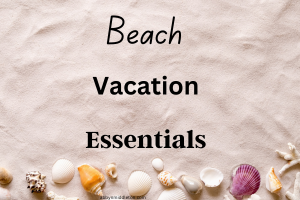 Sun Protection:
When basking under the sun, protecting your skin is crucial. Don't leave home without these sun essentials:
Broad-spectrum sunscreen: Opt for a high SPF sunscreen to shield your skin from harmful UV rays.
Sun hat: A wide-brimmed hat not only adds a stylish touch but also provides extra protection for your face, neck, and shoulders.
Sunglasses: Protect your eyes from the glare and harmful UV rays with a pair of polarized sunglasses.
Beach Apparel:
Choose comfortable and stylish beachwear to make the most of your vacation:
Swimsuits: Pack a few swimsuits so that you can change into a dry one after a swim. Opt for quick-drying materials.
Cover-ups: Lightweight cover-ups or kaftans are perfect for strolling along the beach or grabbing a bite at a beachside cafe.
Flip-flops: Easy to slip on and off, flip-flops are a must for sandy walks and protecting your feet from hot sand.
Beach Gear:
Make your beach experience more enjoyable with these essential items:
Beach towel: Invest in a sand-resistant, quick-drying beach towel that will keep you comfortable and dry.
Beach bag: A spacious, waterproof beach bag is ideal for carrying your essentials, including sunscreen, snacks, and a good book.
Beach umbrella or tent: Provide yourself with shade and a retreat from the sun by bringing a portable beach umbrella or a pop-up tent.
Beach chair or mat: Relax in comfort by packing a lightweight, foldable beach chair or a comfortable mat.
Water Activities:
Make a splash with these must-have gear for water activities:
Snorkeling gear: Explore the vibrant underwater world with a snorkel, mask, and fins. Opt for a compact and travel-friendly set.
Water shoes: Protect your feet from rocks, coral, or hot sand with sturdy and comfortable water shoes.
Waterproof phone pouch: Capture memorable moments without worrying about water damage by using a waterproof phone pouch or case.
Inflatable floaties: Lounge in the water with style by bringing inflatable floaties like a pool noodle, a floating mattress, or a donut tube.
By packing the right essentials and gear for your beach vacation, you can ensure a stress-free and enjoyable experience. Remember to prioritize sun protection, choose comfortable beach apparel, and equip yourself with the necessary gear for water activities. With these Beach Vacation Essentials: Packing Tips and Must-Have Gear, you're ready to make the most of your beach getaway. So, grab your sunscreen, towel, and snorkeling gear, and get ready to soak up the sun and surf!
Thank you so much for reading: "Beach Vacation Essentials: Packing Tips and Must-Have Gear." New to: abbynmiddleton.com? I post weekly blog posts on health, beauty, and lifestyle! If you liked this post, you might also like my blog post on: "5 Affordable Day Trips for a Summer Adventure." For more reading on: "Beach Vacation Essentials: Packing Tips and Must-Have Gear," check out this blog post here!