10 Breathtaking Beaches You Must Visit in 2023
Welcome, beach lovers and adventure seekers! If you're craving sun-kissed shores, turquoise waters, and pristine sandy beaches, then you're in for a treat. In this blog post, we will unveil the top 10 Breathtaking Beaches You Must Visit in 2023. From secluded tropical escapes to iconic coastal destinations, these shores will captivate your senses and leave you with lifelong memories. So, grab your sunscreen and get ready to embark on an unforgettable beach journey!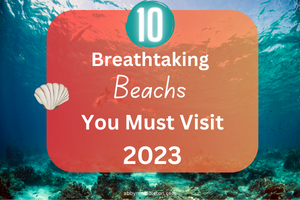 Maldives: A Tropical Paradise
Imagine stepping into a postcard-perfect setting with crystal-clear waters and powdery white sands. The Maldives offers unparalleled luxury and serenity, making it a dream destination for beach enthusiasts. Dive into the vibrant coral reefs, relax in your overwater bungalow, and bask in the sun while sipping a refreshing coconut cocktail.
Bora Bora, French Polynesia: The Jewel of the Pacific
Indulge in the epitome of luxury at Bora Bora, where you'll find a mesmerizing blend of turquoise lagoons, lush greenery, and towering volcanic peaks. Snorkel alongside colorful marine life, embark on a sunset cruise, or simply unwind in your private villa, surrounded by the beauty of nature.
Seychelles: An Idyllic Paradise
Escape to the Seychelles, an archipelago that boasts some of the most breathtaking beaches on Earth. With powdery white sands, striking granite boulders, and azure waters, this secluded destination offers a sense of tranquility like no other. Explore nature reserves, go island hopping, and discover the diverse marine life that inhabits these pristine waters.
Tulum, Mexico: Where History Meets the Beach
Tulum is a unique coastal destination that combines ancient Mayan ruins with stunning beaches. Immerse yourself in the rich history of the region by exploring the archaeological sites, then cool off with a dip in the turquoise waters. Enjoy the bohemian vibes, explore cenotes, and savor delicious Mexican cuisine in beachside eateries.
The Hamptons, USA: East Coast Elegance
For those seeking sophistication and natural beauty, the Hamptons in New York will exceed your expectations. This upscale coastal retreat offers miles of pristine coastline, charming seaside villages, and trendy beach clubs. From sunbathing on sandy beaches to browsing art galleries, the Hamptons is a haven for beach-loving cosmopolitans.
The Amalfi Coast, Italy: A Mediterranean Gem
Experience la dolce vita along the picturesque Amalfi Coast. Nestled between dramatic cliffs and the sparkling Mediterranean Sea, this Italian gem boasts stunning beaches and charming coastal towns. Enjoy breathtaking views, sample delectable Italian cuisine, and take a leisurely stroll along the colorful cliffside villages.
The Great Barrier Reef, Australia: Underwater Wonder
Immerse yourself in a world of wonder at the Great Barrier Reef, a UNESCO World Heritage Site and the largest coral reef system on the planet. This natural wonder is not only home to diverse marine life but also offers stunning beaches and islands. Snorkel or dive in vibrant coral gardens, relax on sandy shores, and explore the wonders of this underwater paradise.
Navagio Beach, Greece: Shipwreck Beauty
Located on the island of Zakynthos, Navagio Beach, also known as Shipwreck Beach, is a picture-perfect cove framed by towering cliffs. The beach's golden sands and crystalline waters, along with the iconic shipwreck nestled on the shore, create a truly breathtaking sight. Accessible only by boat, this hidden gem is a must-visit for any beach lover.
Fernando de Noronha, Brazil: Untouched Tropical Paradise
Discover the untouched beauty of Fernando de Noronha, an archipelago off the northeastern coast of Brazil. With its pristine beaches, vibrant coral reefs, and protected marine park, this destination offers a true tropical escape. Dive with dolphins, relax on secluded beaches, and embrace the tranquility of this Brazilian paradise.
Whitehaven Beach, Australia: Pure Whitsundays Bliss
Located in the heart of the Whitsunday Islands, Whitehaven Beach is renowned for its pristine white silica sand and dazzling turquoise waters. Take a helicopter ride for a breathtaking aerial view, stroll along the beach's seven-kilometer stretch, and bask in the natural beauty of this Australian treasure.
There you have it, wanderers and sun-seekers—our curated list of the top 10 Breathtaking Beaches You Must Visit in 2023. Whether you're yearning for a tropical paradise, an adventure-filled getaway, or a serene coastal escape, these destinations offer something for everyone. So, pack your bags, dive into azure waters, and let these breathtaking beaches create memories that will last a lifetime. Happy beach hopping!
Thank you so much for reading: "10 Breathtaking Beaches You Must Visit in 2023." New to: abbynmiddleton.com? I post weekly blog posts on health, beauty, and lifestyle! If you liked this post, you might also like my blog post on: "5 Affordable Day Trips for a Summer Adventure." For more reading on: "10 Breathtaking Beaches You Must Visit in 2023," check out this blog post here!