10 Great Daily School Preparation Tips!
When August rolls around again, we all began to dread. Summer's over and school is starting! We began to worry about things like making the bus in time, smelling good, not wearing your shirt inside out, making good test grades, hoping not to trip and fall in the hallway, or feeling overwhelmed with homework! Staying up late not knowing how to feel prepared or calm. Now you're in need of some great daily school preparation tips!
Well today I have listed "10 Great Daily School Preparation Tips!" These tips will help you feel confident, determined, prepared, and at peace with yourself so you can get a good nights rest without worrying or feeling stressed! : )
(BONUS video on down! Keep reading "10 Great Daily School Preparation Tips!" to find it!)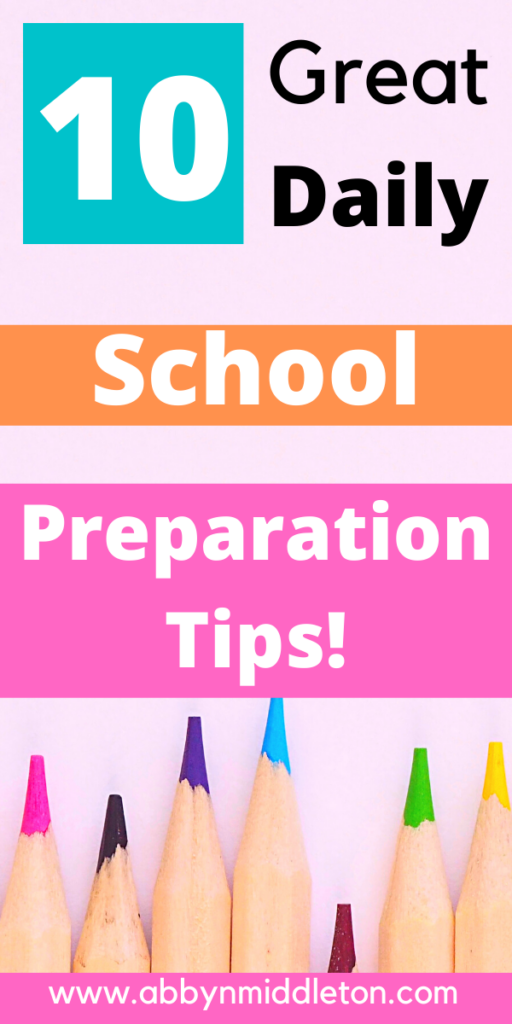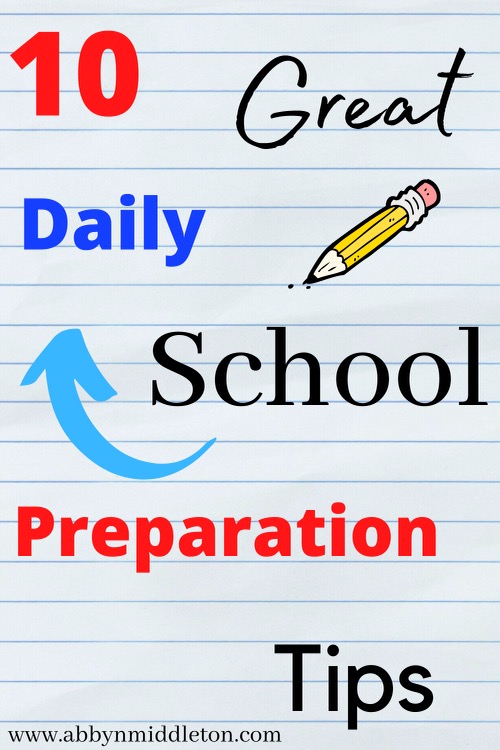 1. Getting homework out of the way
Great daily school preparation tips. I hate coming home, eating a snack, watching my show, then remembering that I have 2 math worksheets, 15 science vocabulary words to copy, and 2 tests tomorrow that I have to study for! With that said, I like to go ahead and get all of my homework done so I can enjoy the rest of my day and not dread my 13,000 assignments I have due tomorrow. So grab a brain powering snack, chomp on it, and go ahead and do your work so you can feel free!
2. Setting out your outfit the night before
Our alarm goes off, we rush out of bed, brush our teeth, and go to get dressed trying on multiple outfits to see which one we like best! Picking out an outfit can take time. Especially with us girls. Throwing clothes all around the room trying to decide on what to wear and not miss the bus!

Therefore, try picking out a full outfit the night before school and lay it out already for your morning! I cannot tell you how much this has helped me! It has saved me so much time! Because I can be very indecisive, especially when it comes to what to wear!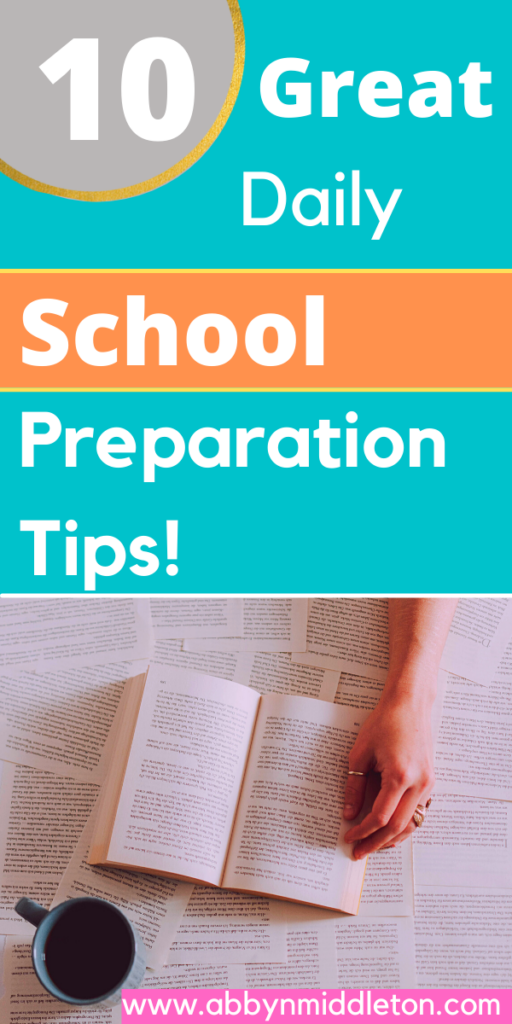 3. Taking showers at night
Taking a shower in the morning can lessen your time to get ready by a far. Maybe you now have wet hair to dry AND style or you have to shave quickly without nicking your skin! I am one of those people who take super long showers! One because they're so comforting and two because I have a long shower routine.

Therefor, I have started to take my showers at night before school the next day! Now I can take long showers and finish my entire shower routine before bed! (Showers at night also mean you can wash your sheets less! Because you're laying in your bed after you're all cleaned up rather than climbing in bed after a long days work!
4. Journaling before bed
A wonderful and mentally helpful tip is to journal about your day! I like to journal how my day was, goals, affirmations, and plans! This helps me evaluate my day, focus on my goals, tell myself things that are true and are to be, and planning out my week so I know what and when something is going on; to prepare for. Try doing the same! This helps my mental health by feeling organized, prepared, and at ease.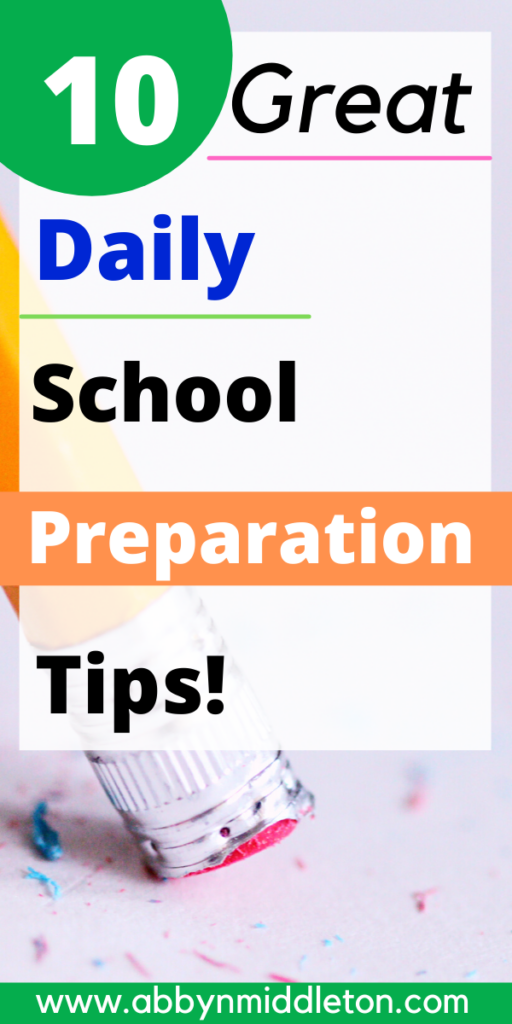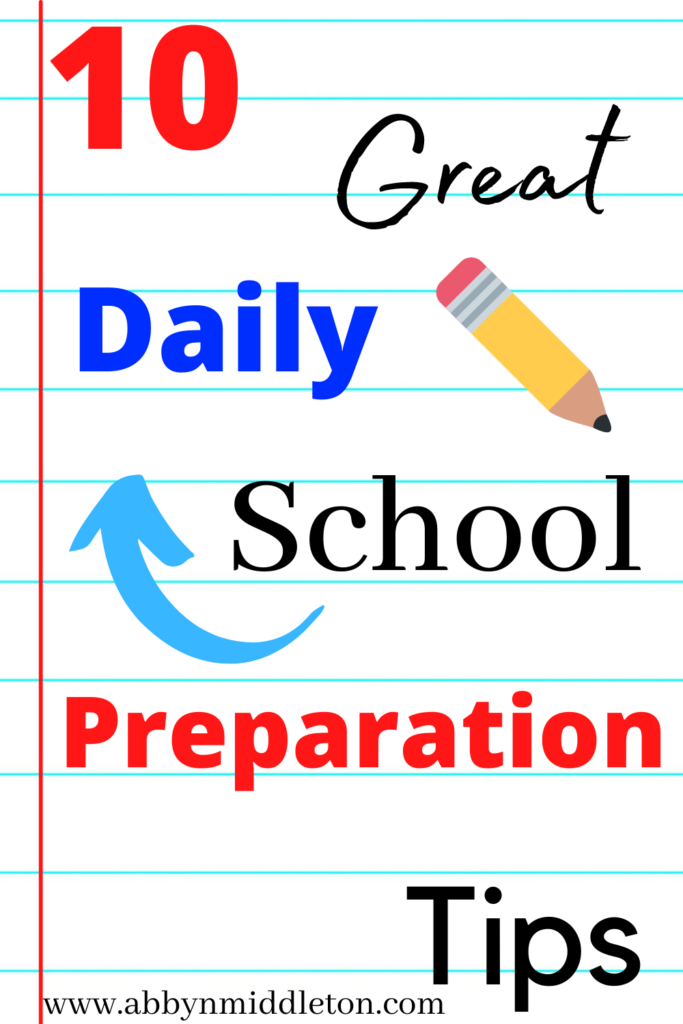 5. Getting enough sleep
Sleep is so very important! Did you know you need at least 8 to 10 hours of sleep every night? Sleep is especially important when you have school five days a week for hours! Your brain needs to rest. We need our brains healthy to learn!
A few great tips for a well night's rest are: turning down the temperature a bit; (Sleep in a cool environment but not to where you where you're freezing,) defuse a lavender essential oil for a bit or use a lavender scented room spray, tuck in your sheets and get cozy in bed, if you have one, try using a weighted blanket, use a fan or white noise, use a sleeping eye mask, and lastly focus on wonderful things before you fall asleep! Here is a good 4 piece sleeping kit I recommend: (Source)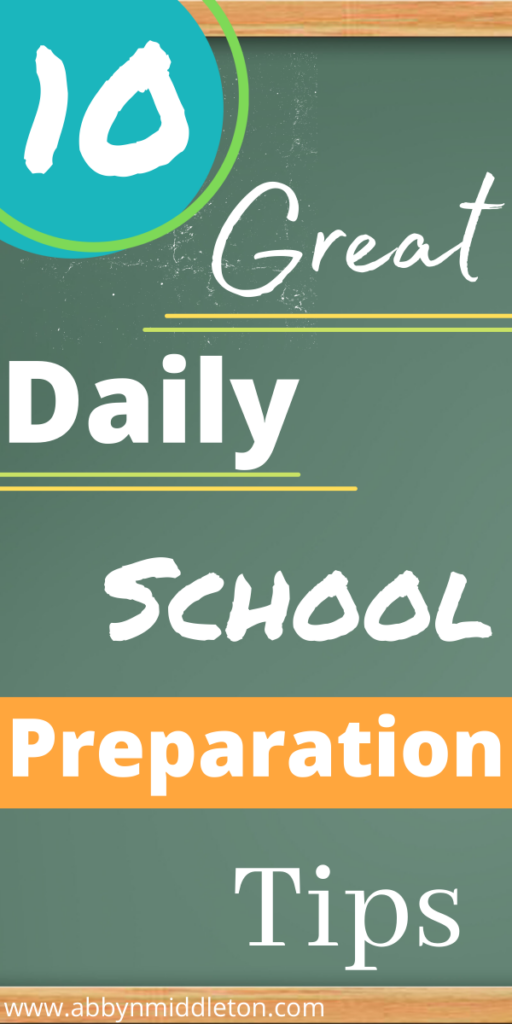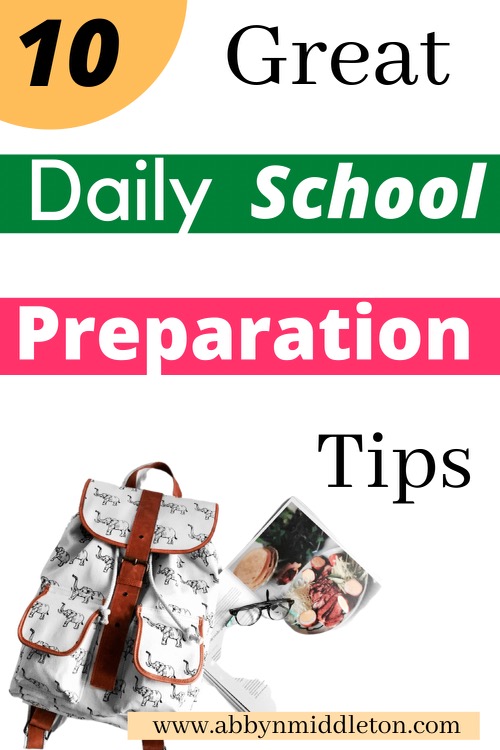 BONUS! Here's a fantastic video
from Ellen Kelley on "7 Mistakes Students Make For Back To School!" On "10 Great Daily School Preparation Tips!"
6. Eat a healthy breakfast

Eating a breakfast full of grease, sugar, high sodium or more bad ingredients can cause you to feel tired, heavy, and yucky all day! Don't treat your body poorly, especially when it's trying to work! Instead eat a yummy nutritious meals! Breakfast is the most important meal of the day, because it's what starts you out. Breakfast is your beginning fuel! Eating a nutritious healthy meal can benefit your energy, sleeping patterns, mood, and thought processing! Maybe some eggs, yogurt, and a kale smoothie?

7. Highlighters! Notebook! Folders!…
Organize! Organization is key to feeling prepared and satisfied. I think there are 3 main simple things for preparation and organization that we all need!
1. Highlighters: highlight important information so it will stand out to you. The brightly colored sentences or words will help your memory.
2. A Notebook: did you know if you write something or say something seven times or more you are more likely to permanently remember it? Notes are your best friend! Take all the notes you can, whether it be to make bullet points for a test, or to write some thing several times to remember it, or more!
3. Folders: mark your folders according to what they're for. You will feel so much better knowing your papers are right where they need to be.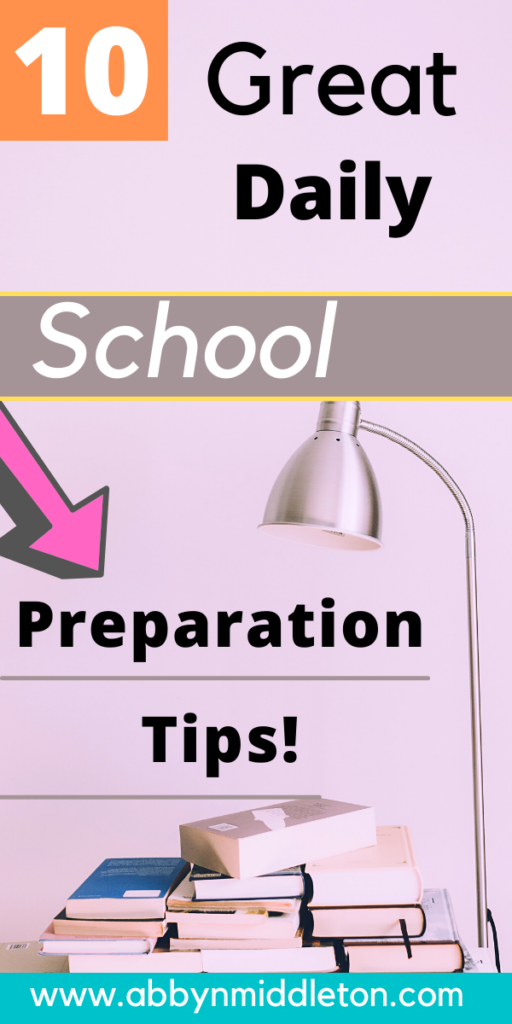 8. Get involved now
Go sign up for that sport! Go join that sorority! Go help with that campaign! Getting involved is very important! You will meet new people! Branch out, and form many new relationships! You will have many wonderful memories and become mentally and physically healthier! Don't sit back and watch others get involved because then, trust me, you will regret it! I myself wish I had signed up for softball or volleyball long ago! I was too afraid and shy to get involved, but taking that first step is what conquerors the shyness! You have to keep going! So go and join something! : ) If that something isn't for you, there are so many other choices to try out.
9. Work hard on those grades! Trust me
(A bit about my journey as well!)
I know, I know, that sounds so cliche and over said, but it is 100% some of the best simple advice! Your future depends on how hard you choose to work. 1 year ago, I couldn't tell you what I wanted to be for sure. Now I'm in 11th grade and I couldn't be more sure of what I want to do with my life! I've always, deep down had an urge to be an entrepreneur. But, I pushed that thought down believing it was too hard.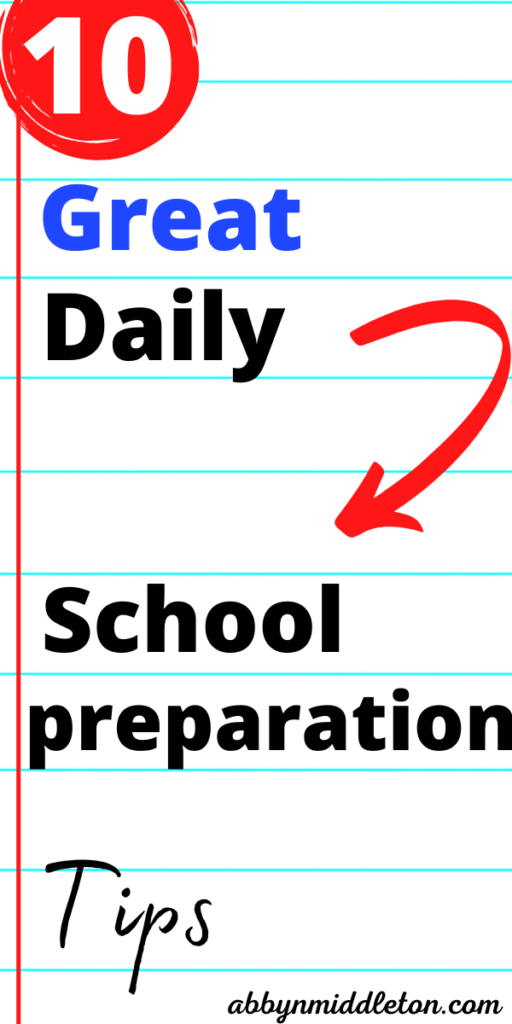 Now I have my own blog and want to major in marketing in college to then create online courses for you guys, my viewers to take if you want to follow my foot steps! : ) My mom is the reason I am doing what I'm doing! She told me for years I'd be such a good writer. I am 16 now and working hard early to become hopefully filthy rich one day haha! Last year I decided to work even harder from then on to pursue my dream of owning a very popular well-known blog and online worldwide course! I believe that anything can be accomplished if you work hard for it. Follow your dreams over all! : )

10. Stay Optimistic!
Know that school is temporary. You're working for the future you want. You're capable and strong! School can be tough and stressful especially as a teenager but hang on tight for the ride and work hard for what you want! You will get closer and closer every day the more you do so. Everyone is capable, strong, and smart enough to accomplish their dreams! : )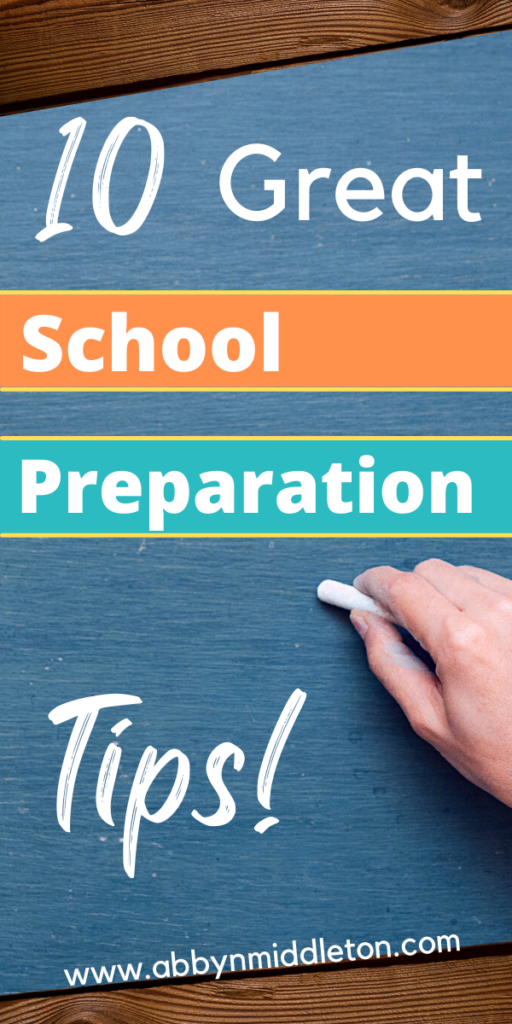 Now : ) As always, Thank you, for joining me on my journey of taking on daily school preparation tips! Please, subscribe, sign up for emails to let you know right when I have a new post out, and let me know how your these tips are helping you! I hope I helped you find out information on "10 Great Daily School Preparation Tips" New to abbynmiddleton.com? If so, check out my latest post on "How To Help KP!" And if you liked this post you're on, you might also like: "What Successful People Do Early in the Morning!" Stay tuned for new posts every week! 🙂