How to Care for Keratosis Pilaris
Keratosis Pilaris, also known as "KP." Rough patches, Dry skin, red or purple toned bumps, and sometimes itching are common symptoms of this skin condition. I've personally dealt with KP for years! Today we will be diving deep into "How to Care for Keratosis Pilaris" We will discuss things like, "what is KP?" and "How do I care for KP?" You will also be given important background knowledge on Keratosis Pilaris, so, keep on reading to find out how to care for this skin condition to look and feel your best!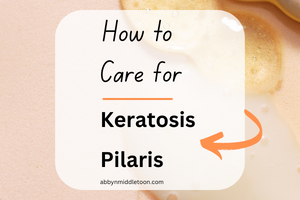 What is Keratosis Pilaris?
Keratosis Pilaris is a very common skin condition. I read, that about 50% to 80% of teenagers and 40% of adults will develop these bumps at some point during their lives. It is known as "KP" for short. The condition is a buildup of Keratin in hair follicle of the skin. It is often found on the upper or back part of your arms, thighs, calves, and upper back legs.
This condition means, the keratin your skin obtains is overloaded causing a blockage in the hair follicles which forms small acne- like bumps. The bumps are usually red, purple, and/or white. The skin can also itch because it is inflamed and dry from the keratin build up.
Common symptom are: Red, purple, and/or white small acne-like bumps, inflammation, hyperpigmentation, rough patches, itchiness, dryness, and possibly flaky skin.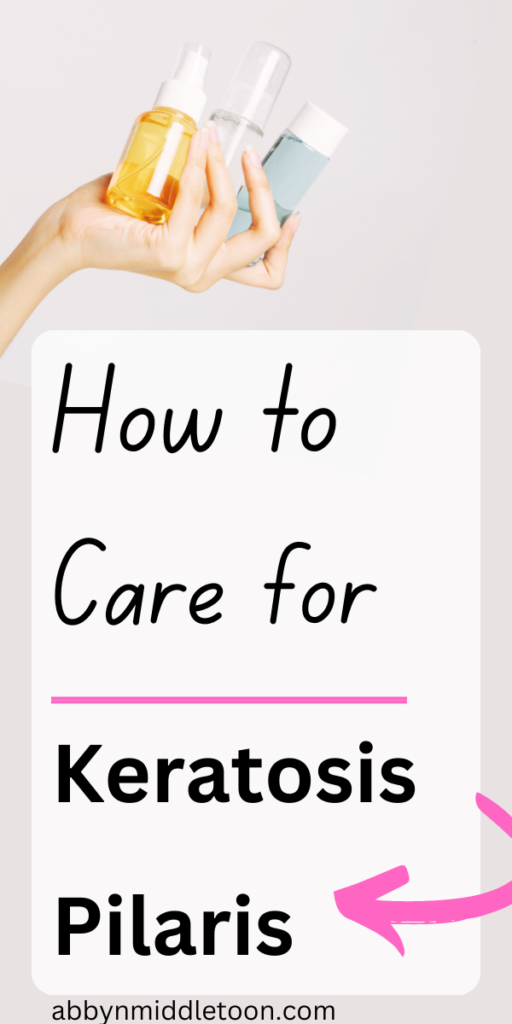 How do I care for KP?
Now the sad news is… you can't really "cure" KP. But! You can definitely help it the condition and reduce the symptoms. On some people, the condition will disappear in their mid-adult years. Though, if it hasn't disappeared by then, let's work on how we can care for it so you can look and feel your best.
I've done research for myself for years trying to learn how to "cure it" when I found out you can't really do so. In that case, I now have tons of knowledge on amazing ways to help the condition symptoms reduce. I have found many good products and formed a great routine to help reduce the appearance and texture of KP. I even have proof below, to show that my routine works! 🙂 ⇩

What can I do to reduce the appearance and texture of KP? My Routine:
First, get yourself an exfoliant. I love the "Neutrogena Hydro Boost Gentle Exfoliating Facial Cleanser." It helps softly exfoliate my skin without leaving it feeling super dry and rough. Honestly, after using this product my skin feels like a baby's butt! I believe that's the "Hydro Boost" working.
You can get all of these products I recommend at your local department store, beauty store, or drugstore. Every product I recommend is in the affordable, low-price range. I use the store Target for a lot of the products I will list.

When exfoliating, I recommend you exfoliate about 3-4 times a week but, no more or it will dry out your skin and make KP worse! The second thing I can recommend is shaving. Shave, shave, shave! Though, you should always exfoliate before shaving. I've been shaving my arms now for about a year and a half. It has especially helped significantly with the rough texture of KP! So, how does shaving help exfoliate your skin? Well, when you're gliding the razor over your skin, it is removing the dry old layer of skin which helps even more with the texture of KP. You should only shave over the affected areas of KP about once a week or every week and a half.
I recommend the "Venus for Pubic Hair & Skin Women's Razor." This razor is made for shaving down there, but I recommend it for KP because it has a guard built in the razor cartridges. The guard helps prevent the razor from touching the very surface of the skin. Therefor, it prevents razor bumps, irritation, and ingrown hairs. (Ingrown hairs are a big issue of KP so this razor is wonderful!)
Moving to step 3 now! Salicylic Acid. I love and recommend the "CeraVe Salicylic Acid cleanser." Salicylic Acid cleanses deep into the pores of your skin to help remove buildup of dirt and sebum. I will wash the back of my arms with this product in the shower after exfoliating and shaving. This acid is a chemical exfoliant. Salicylic Acid is very strong. Therefore, I will recommend you use this cleanser about 3-4 times a week and no more or it can cause more dryness than you might already have from KP.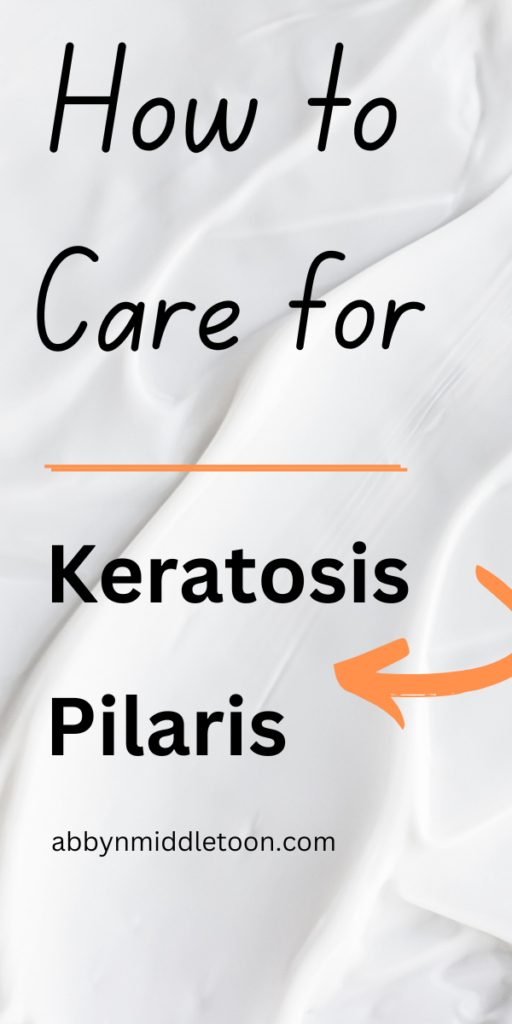 Step 4 is Glycolic acid. I recommend "The Ordinary's Glycolic Acid 7% Toning Solution." This acid helps exfoliate dead skin cells from the surface; while helping tone hyperpigmentation, dry skin, aging, and uneven skin tones. I use it about 3-4 times a week. I will rub this solution on my KP with a cotton ball after every other step before has been completed.
Time for step 5, my favorite step and the most important part to me. Moisturizing! My very favorite moisturizer is "Unscented Gold Bond Eczema Hand And Body Lotions : Target." I love that it is unscented because scents usually irritate the skin. Which can then make KP feel worse while causing you to scratch your skin. Because this moisturizer is made for eczema, it is very rich in moister for super dry skin, which is what you need when you have KP.
Now, if you read the bottle, it says it contains "2% colloidal oatmeal." colloidal oatmeal helps keep bacteria out of the skin which is great for preventing acne. I swear by this moisturizer! I use this moisturizing cream on my KP every single night and morning. I highly recommend you do the same. Moisturize every night, every single night! It is very important, especially when you're using this routine.
My last recommendation and step is sunscreen. I love "Cetaphil Sheer Mineral Face Liquid Drops – Spf 50 – 1.7 Fl Oz : Target." This sunscreen is mineral based and oxybenzone free as well, which is wonderful! Oxybenzone is a popular sunscreen ingredient that is now showing to cause skin cancer!
Oxybenzone is now becoming a less popular ingredient, thankfully. Always get Oxybenzone free sunscreens! This sunscreen is also for sensitive skin and non-comedogenic, which makes it great for KP.
But, anyways, sunscreen helps protect your fragile skin from the suns harmful UV waves; and we are really trying to help our KP here so, let's protect our skin and make sure it doesn't worsen. The sun can be very damaging to our skin overtime if we're not careful.
Now, since my KP is better… I do not use this routine as often anymore. Though, KP can come back over time or disappear in time. With that being said, it is good to still do this routine more often! At minimum, apply the key points of the routine that tend to help your skin the most.
Dr. Sandra Lee recommends more expensive over the counter products while I recommend more affordable drugstore products for when you're on a budget. Though she does recommend a "chemical exfoliant" which is not an over the counter product. I would recommend this as well! You can get one at your local department, beauty, and or drugstore. I did not personally use this on my KP but I did use it on my face and it works wonders for deep exfoliation.
A good chemical exfoliant I love is "AHA 30% + BHA 2% Peeling Solution." I also have a review of my own on this product here: Does the ordinary peeling solution work? The Ordinary Peeling Solution Review The chemical exfoliant exfoliates so deeply that it is also known as a "peeling solution." Peeling the dry dead skin cells off your face. It is very strong so; you should only be using it 1-2x a week if you decide to incorporate it into my routine.


Now : ) As always, Thank you, for joining me on my journey of how to help KP! Please, subscribe, sign up, and let me know how your KP journey is going using my routine! I hope I helped you find out information on "How to Care for Keratosis Pilaris" New to abbynmiddleton.com? And if you liked this post you're on, you might also like: "How To Get A Good Skin Care Routine!" Stay tuned for new posts every week! For more reading on KP, here is a great read here. 🙂